Have no idea how to provide entertainment for guests on your big special day? Consider one of the following suggestions then:
Use Fireworks
Who doesn't love fireworks? If your wedding reception is set in the evening or at night, you can liven up the time with some breathtaking fireworks that would stun the guests. The availability will depend on the venue of course. You might not be able to set off the sparklers at some venues. If you want fireworks, book the venue with this requirement in mind. If you prefer an eco-friendly wedding, you can choose paper or organic fireworks that don't give off harmful smoke. These are not well known but are available in various cities in Australia.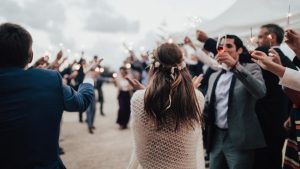 Hire a Lively Band
A wedding band is like a tradition at many weddings. While the bands have been replaced recently by music playback, there are several reasons for hiring a live band instead. Live bands can actively engage with the audience, unlike a music player. Weddings bands can also get a feel of the vibe of the audience and play music accordingly. A reputed wedding band like Paris By Night with a versatile track and set list can deliver some solid entertainment that guests will remember when they leave. You can make the music performance as intimate or party-like as you like. With only music playback, the guests won't get to enjoy this experience at all. You can find budget wedding bands if you are on a strict spending limit for the event. But the expense for a great band would be well worth it to create a memorable event.
Get a Magician
Magicians are not only reserved for kids birthdays. Some magicians specialise in entertaining adults at events like weddings. Unlike balloon tricks, these magicians would use truly impressive visual tricks that would make the guests gasp. You don't need to set a massive stage. There are plenty of magic tricks that can be performed with just a table. It would be a unique feat for the guests who probably aren't used to live magic shows.
Invite the Pets
A pet-friendly wedding is a great way to have a fun celebration plus entertainment. Imagine all the fun guests would have petting puppies and kittens. Some ground rules would have to be set, of course. Instead of asking all guests to bring their pets, introduce a family pet or two at the weddings who won't mind mingling with total strangers. It would prevent other people's cats and dogs getting into fights. Weddings with pets are adorable, but keep ethics in mind when bringing animals to human celebrations.
Set Up a Candy Bar
You can have a whiskey bar, but do you really want your in-laws to get drunk in front of everyone? A better, and more entertaining alternative is to set up a candy bar, where guests can indulge in their sugar cravings. You can introduce exotic candies that people don't usually get at the supermarkets. Homemade candies would be even better. It's a great idea if the wedding includes many kids. Keep in mind to include vegan and sugar-free candy options as well.
Choose one or two of the above to entertain guests at your weddings in a new and fun way without breaking the bank.