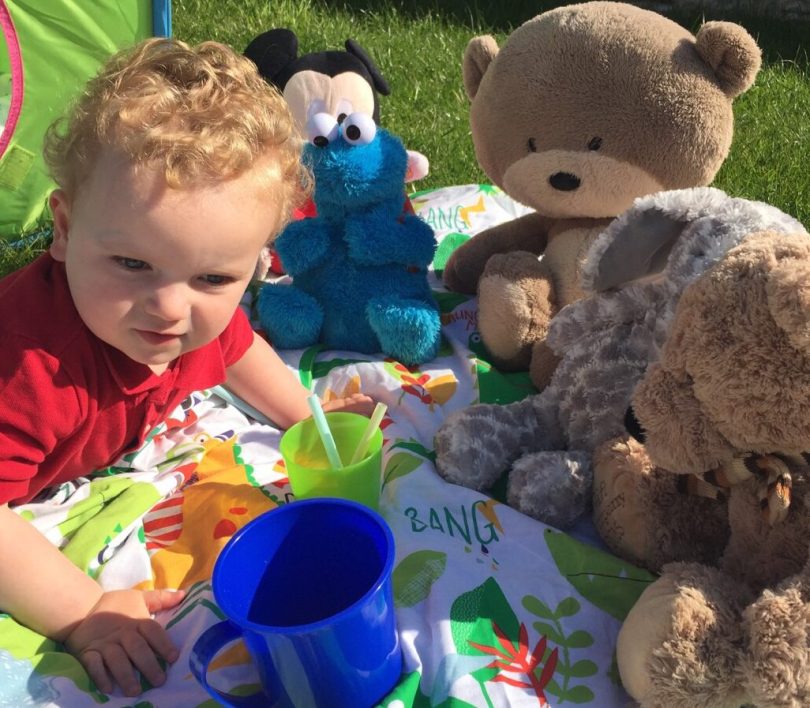 I decided that we should make the most of the beautiful weather over the weekend and have our very first Teddy bear's picnic in the garden, I was so excited thinking of what I could make to eat and drink  for our little party, I was obviously more excited than my son! ? After breakfast we headed into the garden to set out our picnic area we didn't have any specialised equipment or anything like that! just an old cot sheet for the floor, a set of James favourite teddy's, and couple of plastic plates, cups and straws, we were ready to go!
After giving all the teddy's a drink, which James loved every minute going round every individual teddy saying "dink water," really cute! I made a plate of fruit for snacks and James was so funny trying to put most of the fruit down cookie monsters mouth, he was concentrating so hard saying " want one"It's amazing how much they learn just doing simple things and priceless to watch. We were talking to the teddy's asking what they would like and going through all the different fruits which made James smile, he ate a piece of fruit every time he gave the teddy one, which was a bonus! It was a great success and to say I wasn't really equipped for the little picnic it couldn't have gone any better.
The teddy bear's picnic was over and now it was time to get all the teddy's loaded into the car and take them for a spin, like you do! James was running round the garden making all the brum brum  noises then he pulled up and shouted," out,out, mine" then jumped in, classic!
There's never a dull moment in my day and feel truly blessed to be experiencing all these special little moments with my son, and although my little one is going through some huge emotional milestones, with the terrible two's definitely in place, which I'll save for another day! ? This was definitely a magical moment day for me!
Love